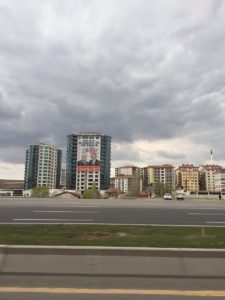 Two vice-chairs of the Unified European Left Group, Andrej Hunko and Nikolaj Villumsen, participated in the election observation of the Parliamentary Assembly of the Council of Europe.
At Monday's afternoon press meeting in Ankara the message from the international observers was clear – the referendum fell short to live up to democratic standards.
Nikolaj Villumsen notes that the Turkish Government clearly did not live up to its obligation to secure a free and fair election, but moreover that the state of emergency blocked the democratic process and prohibited the no campaign in conducting its activity.
Mr. Villumsen is chocked by the level of irregularities at the counting as the Supreme Board of Election, as soon as the voting process had ended, decided that unofficial votes could be included in the counting: a decision that is clearly a violation of the Turkish election law.
Andrej Hunko points out that the Turkish authorities clearly had something to hide in the Kurdish Southeast of the country as he experienced being prohibited from entering several polling stations to observe the counting and was held back for hours by the police as he tried to monitor the election process in the areas of Diyarbakir and Mardin.
There had been a great fear that the internally displaced persons, IDPs, from Kurdish cities in the southeast would not have the possibility to vote. According to the UN up to 500.000 people are suffering from displacement due to the destruction of cities by the Turkish Army.
Andrej Hunko stressed that he was informed that the IDPs had not had a real chance to vote as they were not informed about how to register after their displacement.
For more information from the UEL representatives in the referendum observation in Turkey and further political developments related to the observation of the referendum, please visit:
On the campaign to delegitimise Andrej Hunko