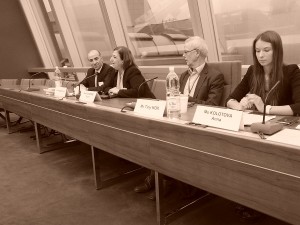 Constructive dialogue and information on the Kurdish question with Mrs Sinem Muhammed, Co-president of the Peoples' Assembly of Syrian Kurdistan and Mr. Fayik Yagizay, Representative of the Peoples' Democracy Party to the Council of Europe.
During the Group meeting on 28.01.2015 UEL welcomed Mrs Sinem Muhammed and Fayik Yagizay to hear the speech about the Kurdish question in the context of the liberation of Kobane after a four-month battle against Islamic State (IS) militants.
National parliaments are called to help campaign for the reconstruction of Kobane and raise awareness of the Kurdish question. UEL members have made clear to undertake measures and engage in their home countries concerning this issue.