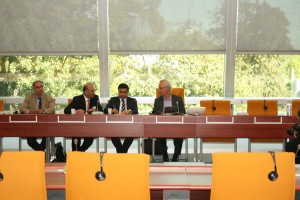 Mr. Selahattin Demirtaş, leader of the left-wing pro-Kurdish Peoples' Democratic Party (HDP), has visisted the event hosted by the UEL Group during the Fourth Part Session of PACE where he discussed the situation in Turkey, the escalation of violence, the upcoming Parliamentary elections which will be observed by the PACE Ad Hoc commission, the Peace Process and solutions for the Kurdish question.
The new Peoples' Democratic Party (HDP) decided to enter the June 7 2015 elections as a party and succeeded in passing the enormous 10% election threshold. The party fared better than expectations and won 13.1% of the vote and took 80 seats in the Turkish Parliament.
After losing the majority and the failure to form a government, AKP decided to hold new Parliamentary elections on the 1st of November. This moment will be crucial for the future of Turkey and the relations with Europe.
Picture Gallery:
http://gue-uel.org/wordpress/wordpress/home-page/gallery/discussions-with-selahattin-demirtas-hdp-on-turkey/